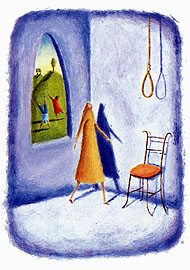 Collectively we seem to have an amazing death wish. The end of the last century and the beginning of this one is all about making information more and more available. Just about anything you want to know is a few key strokes away, so lack of knowledge is truly a thing of the past. And yet with all this information and knowledge we still unswervingly maintain a straight line to our extinction. The only choice that we seem to have is if we are going to do it ourselves or get someone else to do it.
We can't claim we have not been warned. Any scientist worth their salt must be pulling their hair out with frustration or giving up. Giving up is the top of the iceberg of death temptation: give up your job, give up on relationships, even give up on our families. If we follow this feeling of wanting to give up it turns into just wanting to lie down and then on towards deep feelings of death temptation.
It is hard to know where to start in terms of subject; is it climate change, all the wars and conflicts, the confusion between terrorists  and freedom fighters? What about our food supply, the beyond control greed of corporations, the profit at any cost of the pharmaceuticals, not even to mention our water supply and clean air? Just the thought of it all makes us want to give up.
But maybe the desire to give up is what has created this situation. We have given our power to politicians, to businesses, to doctors and scientists. Now we stand at a crisis which is always a crossroads, one direction pointing towards maintaining this destructive momentum and the other to really shifting, taking back our power and beginning to use it carefully.
As Christians worship the crucifixion of Christ, more than the resurrection, it is understandable they have a strong death temptation; where the Muslims and Buddhists get theirs from is a mystery to me. But it is clear that religion will not turn this ship around and it certainly will not be politicians, so that leaves business which does shows some signs of change but not enough yet. That basically leaves us.
All of us will face times when we want to give up and we need to have the emotional maturity to feel
the feelings but not to act on them, to recognise the feelings and keep making the choice for life. We need to have in mind who we would live for, our children, family or friends, but it has to be more than for ourselves.
When we hit this place of death temptation it is essential to have the courage to speak to others about what is going on for you, remembering you are not alone as all of us have these feelings.
And it is our spirituality that reminds us of the sacredness of life, not only of the planet but equally of ourselves. To be alive is to have been touched by the hand of the creator, to be part of a much bigger whole. And any change requires three things: enthusiasm, dedication and patience. The Dalai Lama says, "No matter what is going on, never give up." As we make the choice for life – everyday if necessary – hopefully it will give us the courage to make the big decisions.
With love,